Posts for: November, 2015
By Barnes Dental
November 19, 2015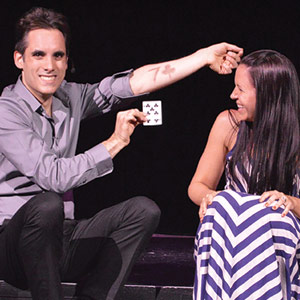 Magician Michael Grandinetti mystifies and astonishes audiences with his sleight of hand and mastery of illusion. But when he initially steps onto the stage, it's his smile that grabs the attention. "The first thing… that an audience notices is your smile; it's what really connects you as a person to them," Michael told an interviewer.
He attributes his audience-pleasing smile to several years of orthodontic treatment as a teenager to straighten misaligned teeth, plus a lifetime of good oral care. "I'm so thankful that I did it," he said about wearing orthodontic braces. "It was so beneficial. And… looking at the path I've chosen, it was life-changing."
Orthodontics — the dental subspecialty focused on treating malocclusions (literally "bad bites") — can indeed make life-changing improvements. Properly positioned teeth are integral to the aesthetics of any smile, and a smile that's pleasing to look at boosts confidence and self-esteem and makes a terrific first impression. Studies have even linked having an attractive smile with greater professional success.
There can also be functional benefits such as improved biting/chewing and speech, and reduced strain on jaw muscles and joints. Additionally, well-aligned teeth are easier to clean and less likely to trap food particles that can lead to decay.
The Science Behind the Magic
There are more options than ever for correcting bites, but all capitalize on the fact that teeth are suspended in individual jawbone sockets by elastic periodontal ligaments that enable them to move. Orthodontic appliances (commonly called braces or clear aligners) place light, controlled forces on teeth in a calculated fashion to move them into their new desired alignment.
The "gold standard" in orthodontic treatment remains the orthodontic band for posterior (back) teeth and the bonded bracket for front teeth. Thin, flexible wires threaded through the brackets create the light forces needed for repositioning. Traditionally the brackets have been made of metal, but for those concerned about the aesthetics, they can also be made out of a clear material. Lingual braces, which are bonded to the back of teeth instead of the front, are another less visible option. The most discrete appliance is the removable clear aligner, which consists of a progression of custom-made clear trays that reposition teeth incrementally.
How's that for a disappearing act?!
If you would like more information about orthodontic treatment please contact us or schedule an appointment for a consultation. You can also learn more about the subject by reading the Dear Doctor magazine article "The Magic of Orthodontics."
By Barnes Dental
November 04, 2015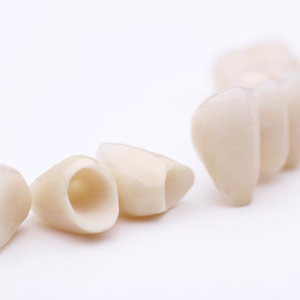 Crowns are a mainstay of cosmetic dentistry used to improve your smile's appearance in a variety of situations. Not all crowns are alike, though — and the differences could affect your cost.
Crowns or caps are needed to cover remaining tooth structure which was previously damaged. Tooth decay and trauma are the major reasons for damage or loss of tooth structure that make crowns necessary. After preparing the remaining healthy tooth to fit into the new crown, we then make an impression mold of the tooth for a dental technician to use to create the new crown. It's at this point where the road to your new smile can take different paths, both in construction and how much artistry goes in to your crown's formation.
Porcelain crown construction falls into two general categories. The first category involves life-like porcelain fused to an inner core of metal. Because many older types of porcelain tend to be brittle and subject to breaking under pressure, metals are used to strengthen the crown. A fused crown can thus provide both durability and a life-like appearance.
In recent years, though, new dental materials have made the second category — all porcelain crowns — a viable option. Either lithium disilicate or zirconium oxide account for nearly two-thirds of crowns made today. Although research on their durability is relatively new, initial results have been encouraging, showing advanced all-ceramic crowns can tolerate forces comparable to porcelain fused to metal (PFM) crowns used in bridges.
On the downside, these newer materials may be more expensive than PFM crowns. Costs for manufacturing may also increase depending on how life-like the matching of color with other teeth you desire your crown to be. For example, individual teeth aren't a uniform color — there are gradations of color that can vary from the tip of the tooth to the root. To capture these gradations in an individual crown requires a high level of artistry and time by the dental technician, which increases the final cost.
If you're in need of a crown, it's best to first make an appointment for a consultation to review your options, and to consider both your expectations and financial ability. Together we can determine what it will take to create a new look for your teeth that fits your expectations and your budget.
If you would like more information on dental crowns, please contact us or schedule an appointment for a consultation.